In the winter, heating problems can be very inconvenient, to say the least. When you get cold at home, you need to be able to depend on your furnace to start working as quickly as possible, so you can make sure you have enough heat to keep your family comfortable and warm. If your furnace isn't working as it should, then you may need to consider calling in an HVAC contractor right away to address the problem, especially if it seems like there are urgent heating repairs needed (i.e., you're losing heat rapidly). But what makes one repair considered urgent while another isn't?
What can go wrong with my heating system
If your heating system is old, you may have problems with it. Problems can range from rust to a crack in the furnace that could cause carbon monoxide to leak into your home. A small problem left unrepaired could eventually turn into a big and costly one. The longer you wait to fix it, the more expensive and difficult it will be. What should I do if my heater starts making weird noises or has stopped working altogether? Call your HVAC contractor right away! You don't want to risk having your heater break down during the coldest days of winter.
Some problems can be dealt with in a matter of minutes, while others may take a few hours. If you have questions about your heater or feel like something might be wrong, do not hesitate to call. A professional will assess your heating system and let you know what repairs are necessary. This way, you'll know when it's time to make a repair or replace your furnace.
What happens if I don't get regular HVAC maintenance
Failure to maintain your home or commercial property could cause major expenses. If you don't repair problems as they arise, you could be in for some big and expensive bills. For example, without regular heating maintenance, the furnace will fail and you will need a replacement quickly to keep your family warm. Here are some other ways to reduce HVAC repair costs:
Maintain your HVAC system (change air filters, check for leaks and refrigerant levels)

Check for signs of problems regularly

Get any recommended repairs before they become worse.
HVAC systems are expensive and they must be properly maintained. Without regular maintenance, there is no way to predict when your system will fail or how much it will cost you. To save money, schedule routine tune-ups with a heating repair professional. These professionals can identify problems early on and make minor repairs before major failures occur.
When it's considered urgent
Heating is one of the primary considerations when deciding if a repair is urgent. If your heating isn't working, it needs to be repaired quickly.
If you're wondering whether your repair is urgent, consider:
How cold it's been in your home/business

How long the problem has been going on for.

Has anyone complained about the temperature and not being able to sleep or work comfortably?

Has any equipment started failing due to the low temperature, such as your refrigerator or freezer breaking down?

Are there signs that moisture may have built up because of lack of heat (i.e., mold or water damage)?

Does this need immediate attention or can it wait until tomorrow?

Are extreme cold temperatures coming?
These are all questions that can help you decide if a repair is urgent. Once you've decided, call your HVAC contractor today for heating repair so they can come out to fix the issue right away!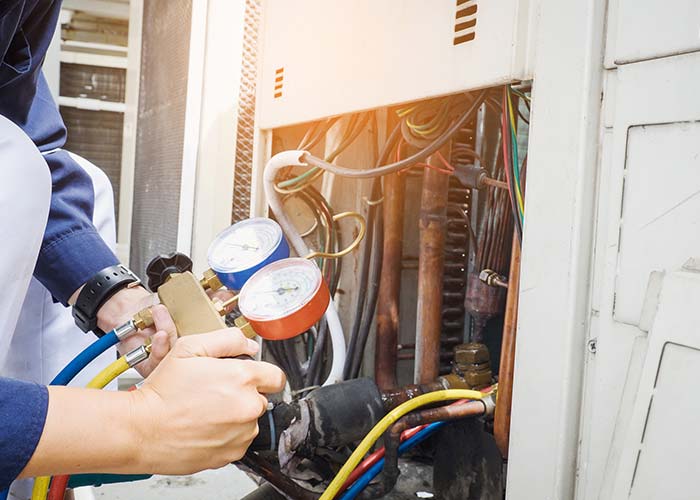 Finding a good HVAC contractor
There are plenty of ways to help determine whether an hvac contractor is the right choice or not. First, one should ask for a list of references. If a prospective company has been in business for years, it's a good sign that they know what they're doing. It's also important to find out if they carry liability insurance and have a current license. Additionally, always check reviews on sites like Yelp and Angie's List before making any final decisions.
When it comes to urgent repairs you may need to consider those that offer emergency services as well as general ones. For example, if your air conditioning unit stops working during a heat wave you would likely want someone to come over immediately to fix it so that your home doesn't become unbearably hot. For these reasons, heating systems usually do not qualify as urgent repair services because people generally expect them to break down eventually when used frequently enough.
Still, there are some situations in which heating repairs may be considered urgent. For example, if you can no longer adjust your thermostat because it is broken and you are not able to adjust it accordingly, then a hvac repair person would likely be viewed as someone who needs to attend to a problem quickly.
It's important to work with a good contractor because many things can go wrong with heating systems, especially older models. The type of system will make a difference too. A lot of people like to try a DIY fix, but an HVAC system isn't something to casually tinker with. It's an important component of your home so you shouldn't take any chances by DIY or hiring just anyone to handle its upkeep. Make sure you've done all the necessary research before getting started. 
Common repair costs
Heating is one of the most essential functions of your home. The cost to replace an HVAC system averages $7,000. This is a major replacement so if you receive regular hvac maintenance you can postpone this major expense for years. If your furnace is old and doesn't work well or breaks down unexpectedly, it's time to get a new furnace. You might also want to consider replacing furnaces that are more than 15 years old because they have reached their expected lifespan.
Keeping your HVAC system well maintained will keep you from experiencing a breakdown and avoid costly repair costs. If your HVAC is older than 15 years old, it's probably time to replace it, especially if it's not working well. Get in touch with our team at Greater Boston Heating & Air if you're in the area and we're provide a free quote for heating repair!